Dear Friends,
Kids In Need Distributors (KIND) is proud to announce the Fifth Annual Crab and Fajita Feast with Silent Auction at the Kensington Armory on September 16, 2017 from 6:30 to 10:00 pm, located at 3710 Mitchell Street in Kensington, Maryland 20895. This event will feature all you can eat Maryland crabs, fajitas by Uncle Julio's restaurant, beer, wine, margaritas, a silent auction and a raffle. A list of items that will be auctioned off will be regularly updated on our website – www.kindinmd.org. Your participation and charitable donations will go directly to benefit Kids in Need Distributors, a 501(c)(3) organization (Tax ID # 80-0789869)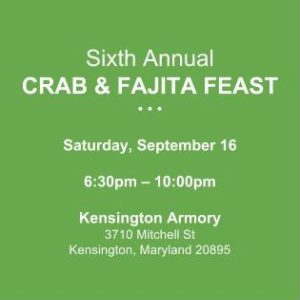 KIND provides weekend meals to the elementary and middle school children of families that qualify for the federal free and reduced meals program (FARM). Through KIND, children receive bags of nonperishable food to eat on the weekends for the entire school year. And this upcoming school year, KIND is expecting to feed approximately 2,000 kids in 25 different schools in Montgomery County which would about 234,000 meals.
Sponsorship opportunities are available for this fun night and worthy cause. Please contact us if you are interested in attending or sponsorship. Your donations to this event provide you with an opportunity to promote your company, network with a very distinguished group of professionals, and increase your philanthropic participation in the community.
KIND SPONSORSHIP PACKAGES

Please let me know at your earliest convenience if we can count on your attendance, sponsorship, or both. Thank you in advance for your support for KIND, an organization that is dedicated to helping Montgomery County children in need.
Sincerely,
Jeremy Lichtenstein
jlichtenstein9596@gmail.com
Office: (301) 347-4121
Cell: (301) 252-0389