What an honor to be nominated for the 2016 Community Quarterback Award for our work with Kids In Needs Distributors! We received the following letter, and are excited about this generous donation that will go towards feeding more kids in our community:
"Dear Jeremy,
Congratulations! The Baltimore Ravens received a nomination written on your behalf for the 2016 Community Quarterback Award. This honor recognizes local volunteers for their leadership, dedication and commitment to improving our community. The Baltimore Ravens would like to share our appreciation for the outstanding work you've done with your organization KIND.
We were not only impressed, but also inspired by the volume of work being done by volunteers like you.
Congratulations again, we are so excited to meet you and recognize you for the Community Quarterback Award.
Baltimore Ravens Community Relations"
KIND will be honored at the November 27th Ravens game and I receive my very own customized jersey! If you're at the game, stay in your seats during the first break of the 3rd quarter!
Click here for more on the nomination
Also, not only is it a privilege to be nominated but the Baltimore Ravens are donating $3,500.00 towards KIND! For more information about KIND please check out our website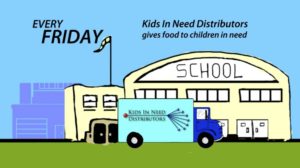 Thank you for all of those who have helped with this intensely important issue of childhood hunger. Let's keep it up!